Jual Beli Pabx Panasonic KX-TDA100D BP kondisi second (bekas)
System Capacity
Maximum Trunk and Extension Cards
- The following number of trunk and extension cards can be installed in the Hybrid IP-PBX for expansion.

Maximum Terminal Equipment
- The following number of items of terminal equipment can be supported by the PBX.

Option List
- The following number of option list hardware can be installed in the Hybrid IP-PBX.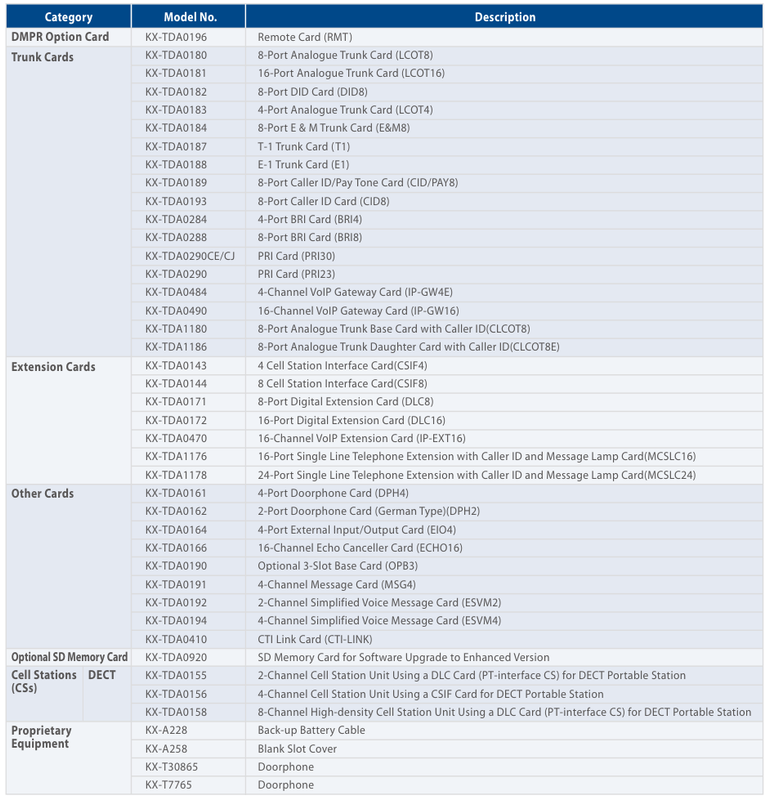 Dimension: 334 mm (W) x 390 mm (H) x 270 mm (D)
Weight (when fully mounted): Under 12 kg
Features List Panasonic KX-TDA100D
Incoming Trunk Call Features
Direct In Line (DIL)
Direct Inward Dialling (DID)/Direct Dialling In (DDI)
Multiple Subscriber Number (MSN)
Calling Line Identification (CLI) Distribution
Intercept Routing
Intercept Routing-No Destination
Internal Call Block
Ring Tone Pattern Selection
Call Waiting
Toll Restriction (TRS)
Budget Management
Extension Dial Lock
Dial Tone Transfer
Walking COS
Verification Code Entry
Call Forwarding (FWD)/
Do Not Disturb (DND)
Call Forwarding (FWD)
Do Not Disturb (DND)
FWD/DND Button, Group FWD Button
Making Call Features
Emergency Call
Account Code Entry
Dial Type Selection
Reverse Circuit
Trunk Busy Out
Pause Insertion
Host PBX Access Code (Access Code to the Telephone Company from a Host PBX)
Special Carrier Access Code
Line Preference - Outgoing
Trunk Access
Answering Features
Line Preference-Incoming
Call Pickup
Hands-free Answerback
Transferring Features
Call Transfer
Holding Features
Call Hold
Call Park
Call Splitting
Music on Hold
Proprietary Telephone
Fixed Buttons
Flexible Buttons
LED Indication
Display Information
Proprietary Telephone
Voice Mail (VM) Group
Voice Mail DTMF Integration
Voice Mail DPT (Digital) Integration
Extension Controlling
Extension Personal Identification Number (PIN)
Extension Feature Clear
Walking Extension
Timed Reminder
System Data Control
PC Programming
PT Programming
Password Security
Quick Setup
Automatic Setup
Flexible Numbering/Fixed Numbering
Floating Extension
Software Upgrading
System Configuration - Software
Class of Service (COS)
Group
Tenant Service
Time Service
Operator Features
Manager Features
Memory Dialling Features
One-Touch Dialling
KX-T7710 One - touch Dialling
Last Number Redial
Speed Dialling - Personal/System
Quick Dialling
Hot Line
Caller ID Features
Caller ID
Incoming Call Log
Message Features
Message Waiting
Absent Message
. ..and more.